what even is a break in a pandemic
I needed a break last week, and assumed I'd be able to put thoughts to words by Saturday. Friday, then Saturday, came and went, and I realized I needed more time, and well … may as well wait for Thursday.
So, here we are. After "a break" but really it's not like my life has become significantly more manageable since last week. Even today, as I looked out into the gloomy Toronto sky, I felt drained. Drained because of the consistent overcast, and rainy days. Cloudy skies, and longer nights. It's here: that transitive time where the grey skies barely wake us up, and linger throughout the day into night. Every year I say I'm going to get a sunrise lamp, or a light therapy light to help during this time … so what's stopping me? Might as well, right? If it'll help? Why do we put things off when there's a chance it could help? (Don't worry, I'm ordering one right now. Okay, done.)
So, okay. What is a break when we're still stuck inside? I'm still not sure. We're all navigating it, as we go into our colder months. And I think part of it for me has been my environment has been chaos. Living alone, without roommates, for the first time has brought on challenges (I suspected would happen): if every space is my own space, and I no longer have shared space to be accountable for … how organized will I actually be? Not very. I think it has to do with some fear around permanence. Fear? Too strong? We didn't move cities a lot, but I definitely lived in (and remember) multiple homes as a family. The main one that I think of as "the house I grew up in" was on a cul-de-sac, and we lived there until I was around 11 years old. Then a townhome a stone's throw from that home, where I found a centipede in the basement and scared my mom from my scream. Then the big move to the Toronto area, which had a pitstop to a temporary rental before our new home was finished. I know friends whose parents still live in the home they grew up in, and I have some slight form of envy at that romantic life.
But, back to the chaos. It has been ridiculous levels of disaster. So, over the weekend, instead of reading books for book clubs, I spent the time setting up a shelf in my living room. Putting away my piles of books (into more piles but in my bedroom), and sorting through random papers and actually tossing items I don't need—all the while wondering why I kept certain things, and simultaneously deciding to make a scrapbook. So, where's the photographic evidence? Well, my place was not at all spotless by the end of the weekend. Only part of it is organized! A very small part! And it spiraled even further into chaos on Tuesday when my brother brought down the new bed I had ordered from IKEA (bless Gabriel. He really helps out his big sis a lot and I don't tell him enough that I appreciate it), and the many many boxes I still had stored at my mom's. This is all to say … I don't really know what a break is right now, and maybe if I can clear the stress of my physical space I'll have some space for breath.
---
You know what was fun? On Saturday, I had a FaceTime cooking session with my friend, Tizzy. I met Tizzy through Girls' Night In where she was a Reads host in DC, and was also a Programming Lead with Cara (while I was the Ops Lead for the Program). While we don't chat regularly, we do what we all do and keep in touch via social media. The little glimpses that are shared, and commented on. I saw that she had been making more Korean food at home for her meals, and she mentioned that she had a package of dangmyeon that she didn't know how to use. Funnily enough, I had just picked up some of those same Korean potato starch noodles to make japchae eventually. I offered to "teach" her how to make one of my favourite banchan. Japchae isn't really a main dish. It's a banchan, a piece of the puzzle that is the meal.
There was something so delightful cooking with a friend. I know we've all been adapting to this time, but I miss hanging out with my friends. When I first moved into my place, I would invite some friends and cook for them. Sometimes we would cook together, other times we'd chat while they drank wine and I chopped away. This was a nice reminder that some form of that normalcy is possible. Like, why haven't I been doing this the whole time!? Maybe it's the zoom fatigue. Maybe it's a matter of we don't know where others are in their level of contact. What kind of friend are you? What do you expect from others? What do you expect from yourself? How do you show up? How do you need others to show up for you?
Anyway, we made the japchae over FaceTime and I'm really happy we did. I finished it within a few days, and now I want more. Just some rice, kimchi, japchae, and some kalbi I brought back from my mom's the previous week.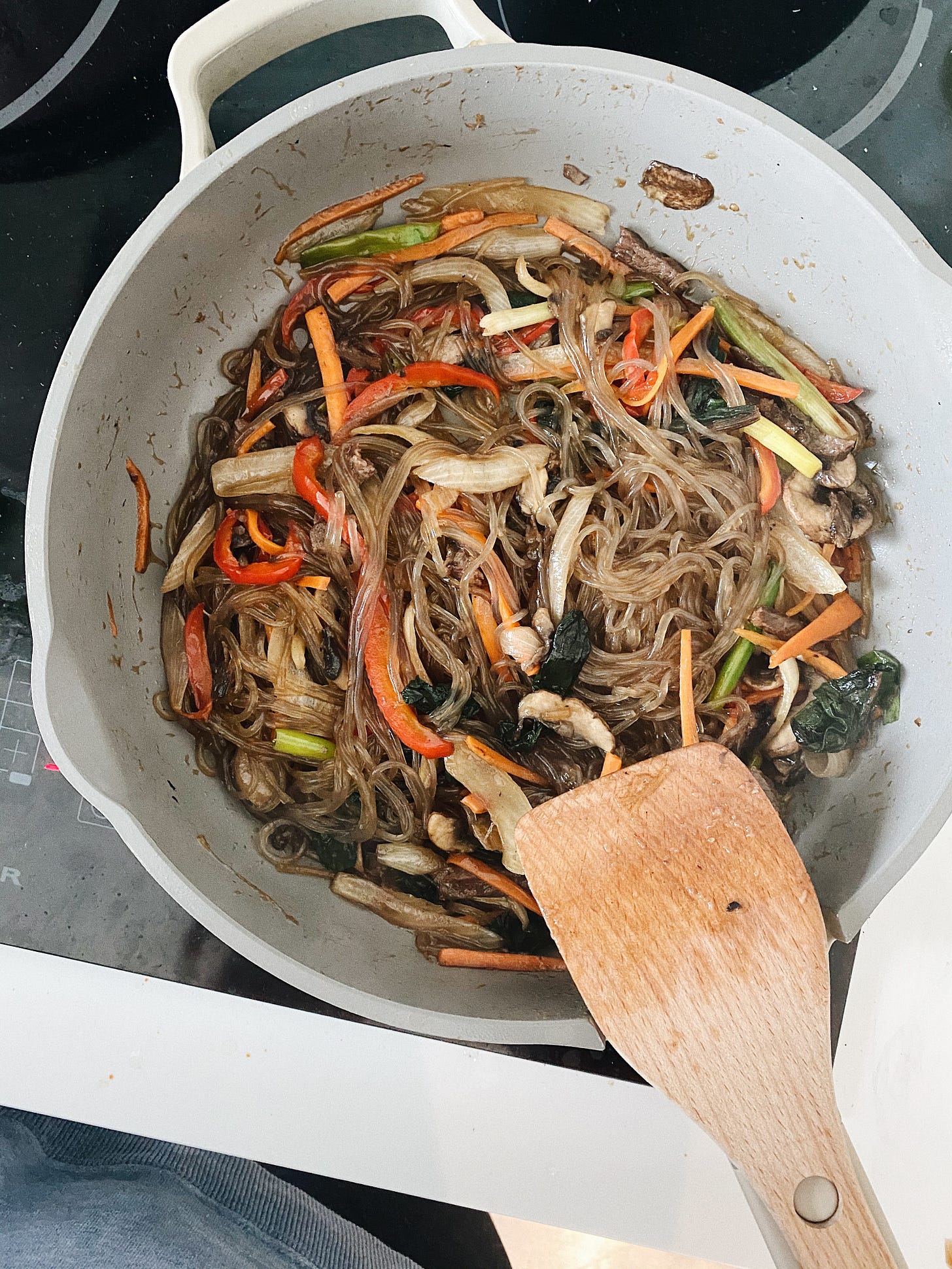 ---
I haven't been watching anything new, or reading anything else that I haven't already mentioned before. My pandemic reading list has been long and slow moving. I'm really only watching shows that I can watch in bite-size pieces, and can find delight in. The holiday movie season is starting, so … be forewarned.
---
Books (That Are On My List)
Minor Feelings: An Asian American Reckoning by Cathy Park Hong
The Royal We by Heather Cocks & Jessica Morgan
The Invisible Life of Addie LaRue by V.E. Schwab
Recipes
Japchae (Stir-Fried Starch Noodles with Beef and Vegetables) – Korean Bapsang
Watching
Emily in Paris – Netflix (still, I know!)
Gilmore Girls – Netflix (I'm overdue for a rewatch)
Articles
What If Friendship, Not Marriage, Was at the Center of Life? – The Atlantic
18 Short Poems About Friendship That Transcend Social Distance – The Good Trade