is this now a 'working for the weekend' life
I started writing one section of this over the weekend, and as usual, waited to see what else happened this week … and hey! It's Thursday now. Honestly? I'm so relieved we're one day closer to the weekend. I feel like there's little reprieve from the work day until I shut down the computer at 5pm, and wash, rinse, repeat until Saturday morning when I don't have to walk my 5-second commute to my screen. This isn't a new feeling—it has definitely been written about by so many throughout this pandemic. I've had different iterations of this conversation with friends these past seven months. Of how even though there's no event to look forward to, there's some sense of "working for the weekend" whatever that weekend looks like.
I've come to realize that I've gotten pretty good at my work boundaries this year. It has been necessary for my own well-being! When most of my mind is swamped with anxieties and worries, shutting off at the end of the day and staying offline on the weekend has allowed me time to escape and not add the stress of work to my plate. I'm not at all saying I can leave it all behind. July and August were pretty stressful months because of work (which sucked especially because summer). And, I definitely feel like I could "catch up" on work on the weekends, or just not shut down after eight hours … but if I don't build in time for myself right now, when else am I going to do it? Yes, I'm so grateful for a steady income right now, but I also need to preserve me for me and my community.
And, hey: I'm very much a Leo. I absolutely love to laze about and do nothing.
---
I'm sitting here typing with one hand, as I eat delivered pizza with the other. I'm trying to remember what I had to eat this past week: because work had been quite exhausting, I ordered in a lot more than I care to admit. I take pictures of my food so I have a record, and they act as a memory trigger for the feelings around the meal. Yet, what happens when there's no document? Did it happen? How did I feel? How do you document your experiences? Do you worry that you won't remember specific moments? How do you capture feelings? Do you feel those feelings and then let them pass? Do you yearn to revisit those moments? How?
There's definitely a reason (right now, during a pandemic) why my most memorable meals are over the weekend. I have more time for me, less need for recuperation from the work day, more room for inspiration to take hold, I feel more of my creativity bubble up to the surface. And, of course, more time.
Publicly reminding myself that I have to start using my freezer more effectively, especially as I try do more batch-cooking for these colder seasons.
Huevos rancheros for Sunday brunch, after I asked my best friend what I should have for dinner on Friday night. I said I'd have it the next morning, but didn't get around to it. When I finally rolled out of bed on Sunday, I realized I didn't have to go get any new supplies because I happened to have everything on hand. But, how fun was it when I shared a picture of my plate with her, she sent me her plate of the same dish!? A shared meal.
---
I miss traveling. And, I miss Paris.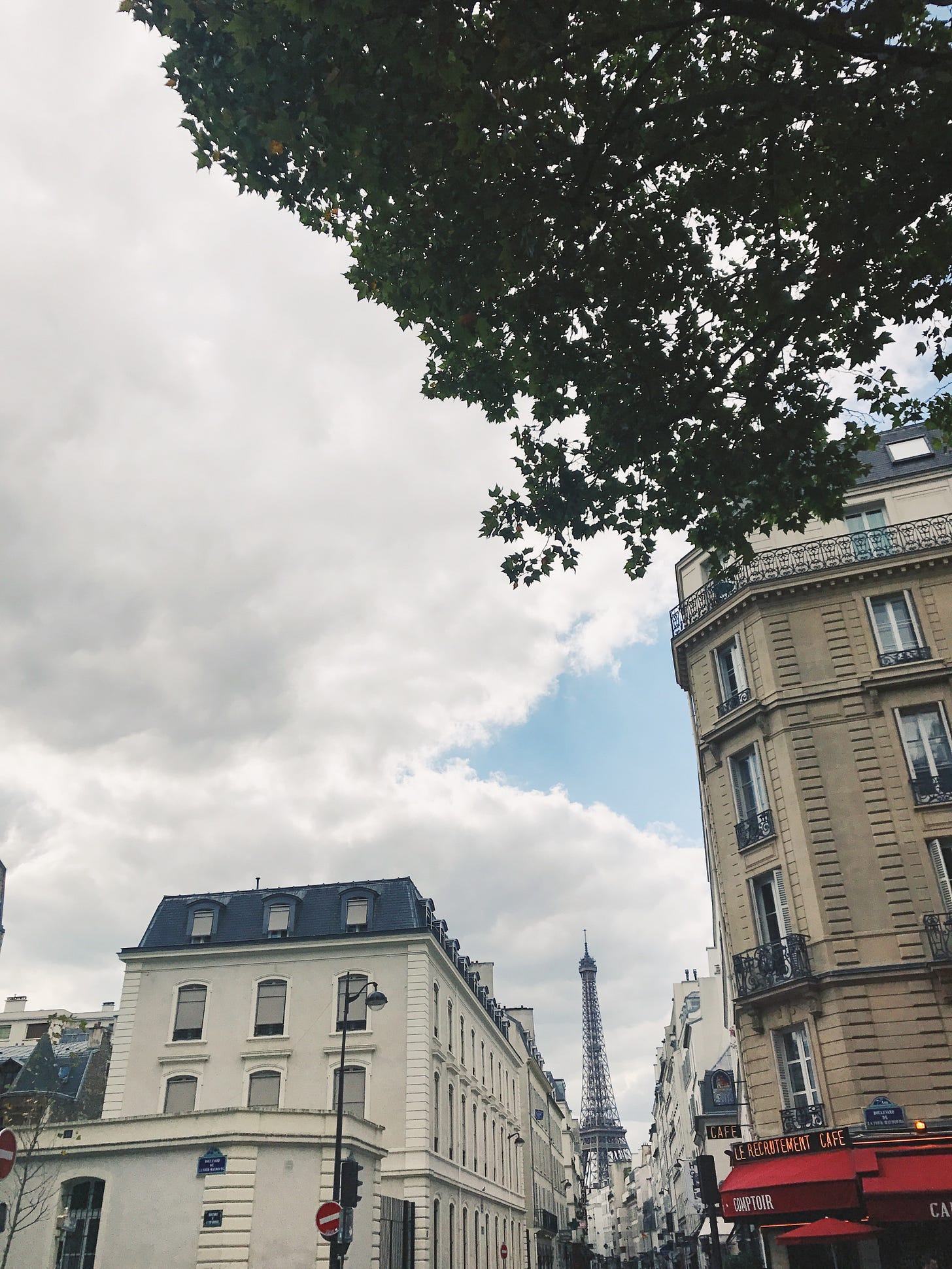 I'm not blind to the problems it has, and the issues that are perpetuated. I can never be blind to that. But, Paris will forever hold a special place in my heart.
So, bien sur, I started Emily in Paris.
Going in, I had already decided that I was not going to binge watch the full ten-episode season. I was going to space it out, so I could have a bite-sized morsel to look forward to week over week. Going in, I knew it would be pure fluff and be so far from the realm of reality. Going in, I was going to just enjoy it.
It did not disappoint.
If you thought that Emily in Paris was going to be revolutionary or … honestly, I don't know what you would've thought going in. It's created by Darren Star. Darren Star created: Beverly Hills, 90210, Melrose Place, Sex and the City, and Younger. Puh-lease. If you had higher expectations than fantasy and escapism, I'm sorry … you were fooling yourself.
It was chock-full of all the stereotypes of an American tourist ingenue in Par-ee: perfectly awful pronunciation of French words; the misunderstanding how floors are numbered; snobby Parisians; beautiful clothes; every French man hitting on her; returning a steak that is cooked to medium-rare; absolute ignorant arrogance of French culture. While I groaned and rolled my eyes at all this, and reacted with such giddiness at all these predictable things come on screen … it really just reminded me that I miss it.
I miss the ability to go elsewhere. I miss meeting new people. I miss learning the history of a place. I miss standing in the same spot as someone I read about in a book, time and time again. I miss being able to experience the amazing intricacies of a city's heartbeat. I miss having the choice to be alone someplace where I chose to be alone.
---
I'll be watching Emily in Paris, two episodes at a time over the next four weeks (two episodes down, eight more to go). I'll definitely have more thoughts about the actual content of the show as I progress through the season. As an aside, I've been part of The Lounge by Girls' Night In for awhile now, and in the Slack community I hosted a delightful online "watch party" where I live-reacted to the show alongside other Loungers who were watching at the same time. If you're interested to know more, shoot me a message and I'll be happy to answer any questions and share my experiences.
---
Books
Beach Read by Emily Henry
Eat a Peach by David Chang
Watching (escapism & delight)
Emily in Paris – Netflix
Schitt's Creek, Season 6 – Netflix (since it's finally out for my American friends)
Love, Guaranteed – Netflix
Recipes
Huevos Rancheros (to be honest, I only found this to share)
1-Pot Creamy Lasagna Soup
Gnocchi Ripieni with Mushrooms, Parmesan & Thyme
Reading
13 Tips for Making the Most of Your Freezer – Basically
'Ridicule': The French Reaction to 'Emily in Paris' – Elaine Sciolino, New York Times
"If Sex and The City at least started out with some touches of realism …" –@avocado_ibuprofen, Instagram
You've Got Mail – Hanif Abdurraqib, 4Columns