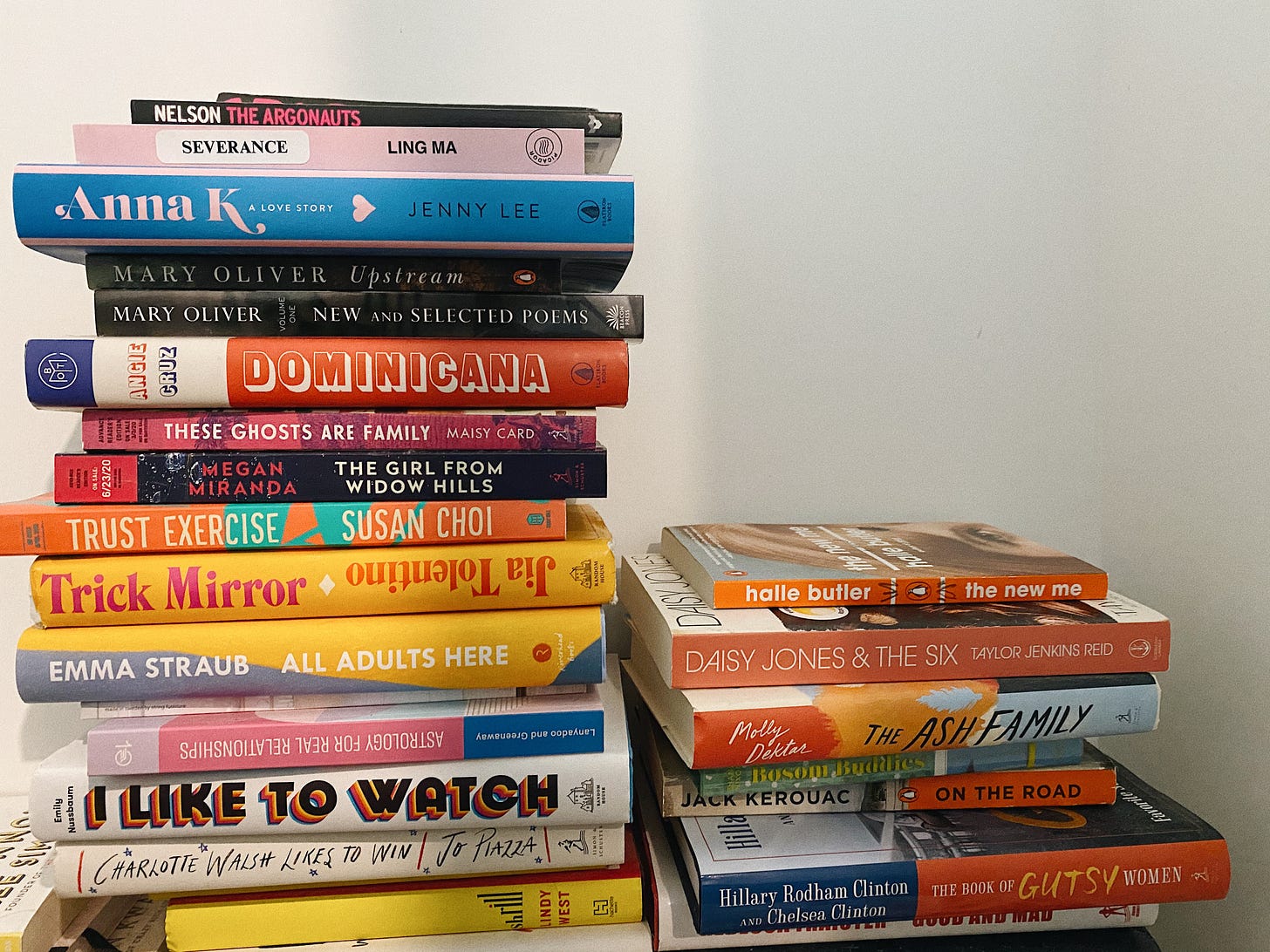 It may be self-aggrandizing to say this: it's an accomplishment that I've finished 17 books so far this year.
Like so many of us, my 2019 self had many plans for 2020. The coziest of which was to surpass my thirty-seven books read by tackling one a week for the new year. Fifty-two didn't seem too lofty at the time, but who would have thought a pandemic would greatly disrupt my reading habits. As shutdown began, I thought I'd be spending my downtime reading—so much free time to read all the books on my TBR (To Be Read) list—but, any time I went to reach for my Kobo or the book on my desk, I didn't last too long on those pages. The only thing that kept me going was my commitment to my book clubs, and even then I didn't finish all the books (whoops—sorry, friends).
Yesterday, I let another library loan expire without opening it. I just don't want to read anything that I feel may be too heavy for me. So, I revert to my candy: romance. Of the contemporary variety. I used to hide my love for the genre: would claim it as a guilty pleasure, and would always prop up more literary fiction as a current read or recommendation. That behaviour slowed as I realized how the scorn for romance was born from misogyny, and it was one genre that always told women's stories. So, you'll find my Goodreads full of the genre (which is finally becoming more diverse). I'm yearning for comfort. Escapism. Delight. Stories I know the basic formula to, and know will wrap itself up in a nice bow by the end.
---
I've been (re)watching sitcoms.
While there is nostalgia tied to my favourite go-tos (Friends, The Office, How I Met Your Mother), the tried and true wasn't cutting it. These are shows that I can put on in the background, and know every scene without paying attention to it. Useful if I want to feel productive doing something else, but not necessarily true if I just want to watch it.
I just finished rewatching Happy Endings. It was such a darling of a zany show that was cancelled too soon. How many more sitcoms about a group of six friends and their adventures in a city does TV need? SO MANY MORE (I stand by this). While it has lots of similarities to Friends, the comedic writing and absurdity of the show actually allowed for the performances to really shine and make me laugh. I swear, PMK's Elisha Cuthbert was quite delightful. It's unfortunate Happy Endings only lasted three seasons: it didn't get the opportunity to keep tackling the 'hangout sitcom' subgenre in its hopped-up absurdist way.
Each decade seems to have a show that explores that 20- and 30-something friend group that's always hanging out. We can put Friends, How I Met Your Mother, and Happy Endings side-by-side, see how they match up the same, but it hits differently when you see the changes in each subsequent show. Is there a hangout sitcom for this new decade? When will there be one that is representative of my own lived experience? With a diverse cast of characters, without tokenization? Is there even room for the hangout sitcom in television today?
---
The Raptors won Game 6 in their series against the Celtics last night in 2OT. My heart is still racing and my body is still tensed.
The on-court camera angle may be welcomed by many, but for me, it is the most distracting and discomforting view. Stop it. I don't want to be in a video game.
That's all.
---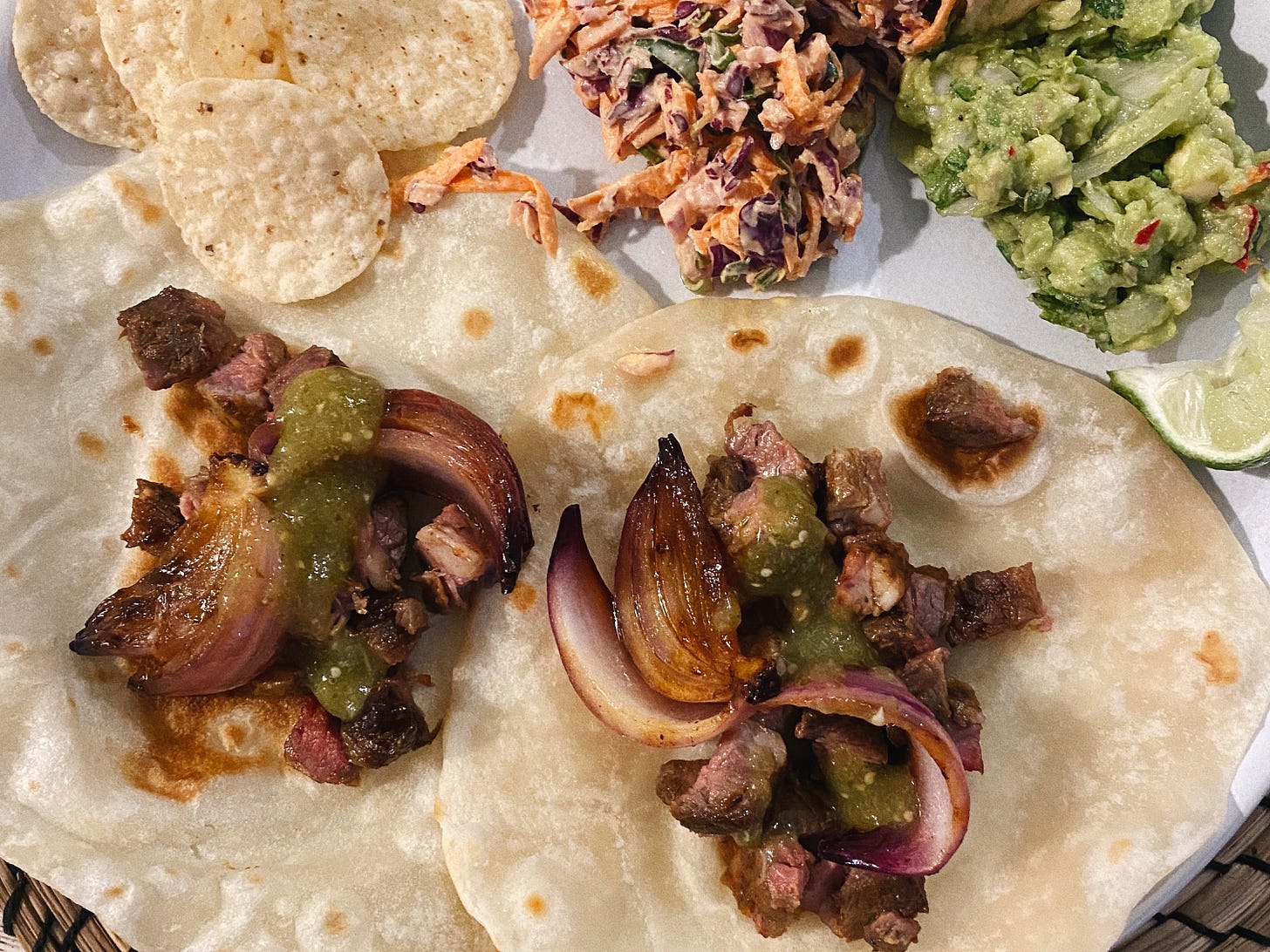 Sohla El-Waylly developed a short rib taco recipe for BA's Basically that had my cravings up in arms. I couldn't find any corn tortillas at the two grocery stores I went to (ugh, I know but one was the Korean one), so I decided to make flour tortillas from scratch. I ended up using chicken schmaltz because I had some available, and I think it made the tortillas a success! Even without baking powder, the tortilla puffed up when I cooked them. They were soft and chewy, and truly, so easy to make. The short ribs were basted in a pantry salsa that I am definitely going to put on everything. It's so smoky, slightly sweet, and just enough heat—we'll see how long my half-pint lasts. And, at the market the other weekend, I bought a pound of tomatillos and made salsa verde: roasted the husked and rinsed tomatillos in the oven with a jalapeno pepper; tossed into blender with garlic, cilantro, white onion, lime juice, and salt; blended until desired consistency. Easy and delicious.
---
I feel like this first newsletter is an introduction to the seed of whatever this will become. It might not always be this broad and shallow. It will touch on more and likely be longer. Maybe I'll take photos for it specifically. Thank you for wanting to follow along, and seeing where this goes.
Books
Big Summer by Jennifer Weiner (re-held! whoops!)
The Flatshare by Beth O'Leary (softly sweet)
Royal Holiday by Jasmine Guillory (always Guillory)
Watching
Happy Endings – Prime Video Canada / Hulu
Superstore – Prime Video / Hulu
New Girl – Netflix Canada
Recipes
Tortillas de Harina (Flour Tortillas) – Danny Mena
Short Rib Tacos – Sohla El-Waylly
Articles
Why You Should Be Reading Romance Novels – Vulture
In praise of Happy Endings, the best, most twisted hangout sitcom ever – Vox