finding a perfect bite
When you're eating a meal, building that perfect bite is everything. I'd have to check with my mom, but I'm pretty sure I was never the kid who didn't want items on her plate to touch. Never the one who had to eat each component separately. I feel like it's inherently against how I was raised. Even though I always wanted burgers, mac & cheese, anything not Korean, our meals were always very much Korean and family-style: a bowl of rice, banchan on the side, a stew or soup in the middle, and a bigger protein dish. Even though all the items are separate, you eat by putting pieces of banchan on rice, onto your ready spoon, and into your mouth. I always leaned towards specific banchan (beansprouts and kkadugi have always been my faves), but always layered flavours: a little bit of the broth, rice, banchan, a small piece of meat. Each bite is different but always delicious.
Again for tonight, I didn't really know what I wanted to eat. Starting this week, I made a commitment to myself to only order in once a week, and I did that on Tuesday (McDonald's). Sorta mistake to do it so early on in the week, but first day back from a holiday weekend? Had to do it. So, tonight: I ended up making a rice bowl. First of all, I am awful at making rice. Even with a rice cooker, it is not frequent that I get a good batch of rice cooked. Yet, today, I somehow made a decent pot of a white and brown rice mix. I don't know what magic made it happen, but over lunch I did it and my younger brother would be proud (he's the rice expert in the family). I did visit my family this weekend (the first time since March—I've a lot of feelings about this) and came back loaded with Korean BBQ'd meat: pork and LA galbi. So, I reheated some of the spicy pork, fried an egg, and tossed them atop the bowl of rice. Threw in some lettuce, and drizzled some soy sauce and sesame oil. Added a scoop of kimchi. A small smear of gochujang (too hungry to make an actual sauce). Honestly, it had everything I needed for the perfect bite. And, it was delicious. Thank you very much.
I'll leave this food portion with the most perfect savoury galette I made: turkey pot pie.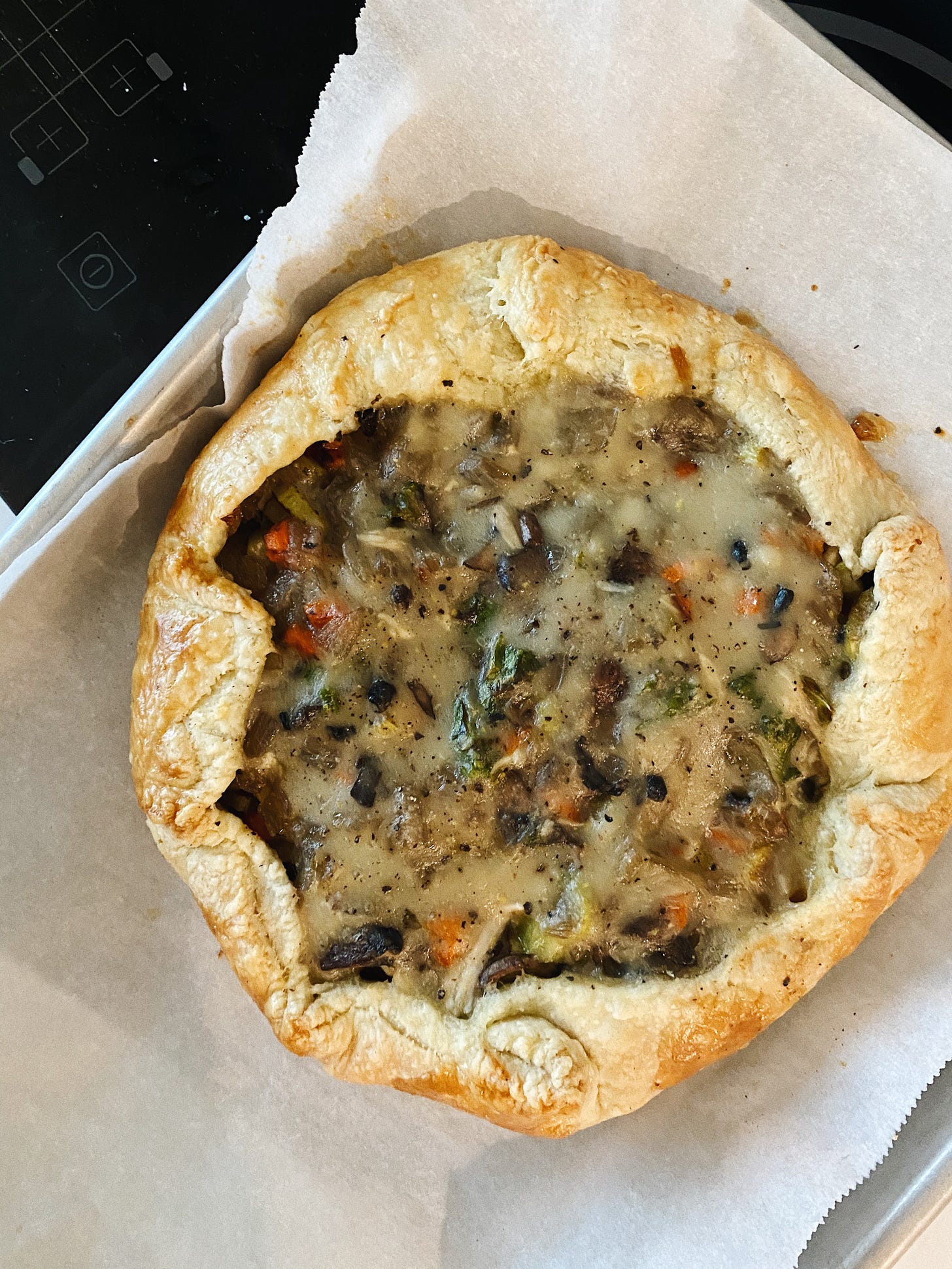 ---
I've been watching Emily in Paris two episodes at a time. By spacing out the episodes, I've somehow recaptured the delight of watching a (non-reality) show weekly. I honestly don't know how I've not gone ahead, but it surprisingly hasn't been too difficult. Don't you miss waiting for episodes? I'm torn sometimes, in this era of streaming (and as someone who hasn't subscribed to cable tv in so long), if I miss the nostalgia of that format, or if binging is the way to go. I think I'm leaning towards the weekly viewings, because I'm getting tired of this idea and norm of instant gratification. On the flip side, it is nice to have a show's back catalogue readily available to go through when I haven't had the chance to watch it before. (Can I just say that I'm now on Season 1, Volume 2 of The Chef Show, and Jon Favreau is growing on me.) But, for new stories—I'm totally fine waiting.
I started watching the new season of The Bachelorette, and while I have thoughts I won't bore y'all with them. I've already gone through my group chats talking about the first episode. I will say, though … the producers of this show really are something. Let's see how this pandemic season plays out.
---
This feels like it is comparatively short to past ones … because I haven't been doing too much outside of work. Catching up from the long weekend, and already dealing with the stress of the long weekend. Things happen (or don't), but I'm looking forward to reading more of Transcendent Kingdom for book club. I've a handful of light reads recommended to me from the other week, so I've got those on the standby to switch between when I need a break.
---
Books
Can't Even by Anne Helen Petersen
One to Watch by Kate Stayman-London
Recipes
La Poule au pot galette – Allison Brooker (Allie Bakes)
LA Galbi (Korean BBQ Short Ribs) – My Korean Kitchen
Chicken & Rice, However the Heck You Want, a la Sohla El-Waylly – Food52
(Still) Watching
The Chef Show – Netflix
Emily in Paris – Netflix
Articles
Out There: On Not Finishing – Devin Kelly, Longreads
Why Do Fast-Casual Restaurants Get a Pass on Appropriation? – Jenny Dorsey, Eater
How Work Became an Inescapable Hellhole – Anne Helen Petersen, Wired (adapted from her book)