Because I can toot all I want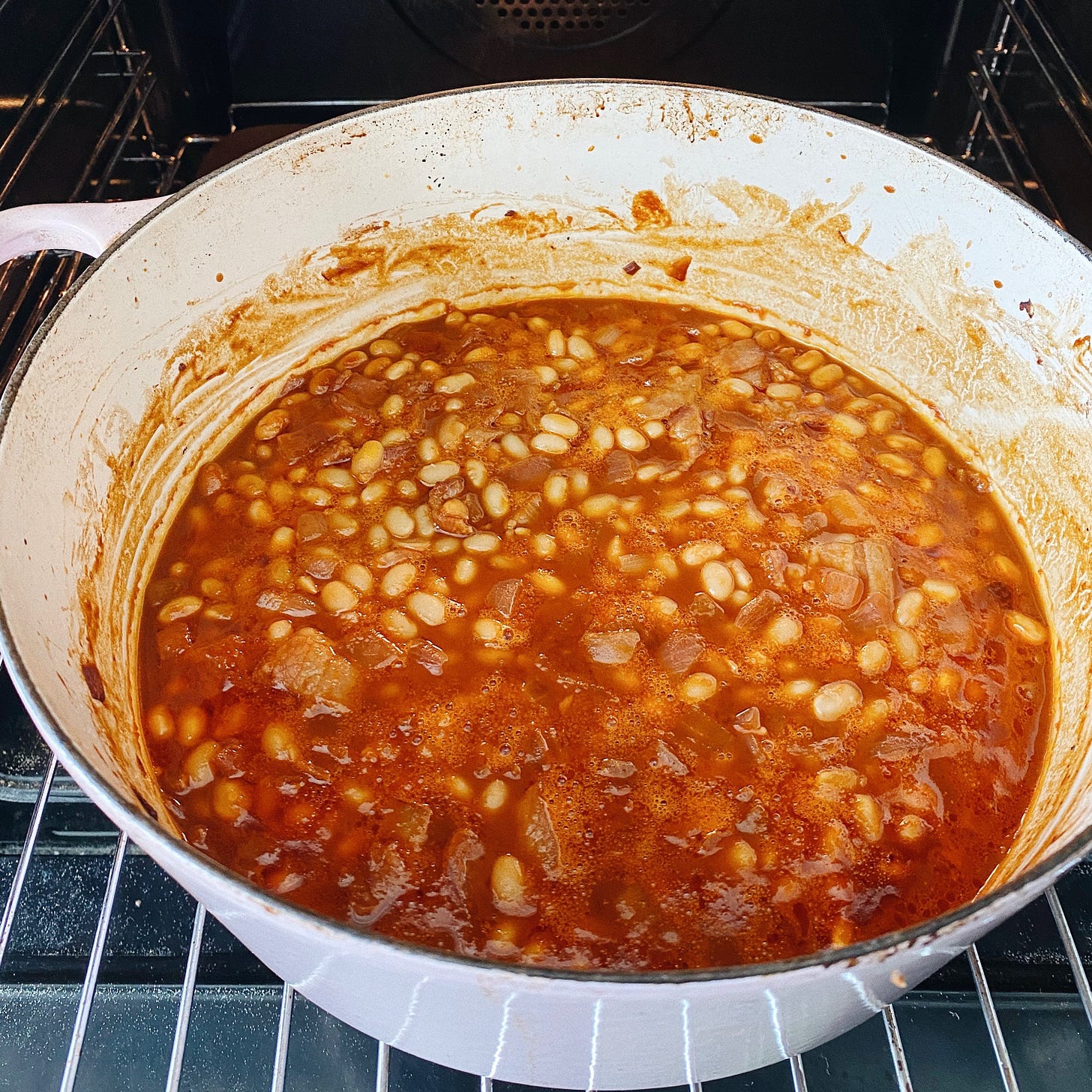 I didn't grow up eating baked beans, yet over the weekend, I had a sudden craving for them. I've had them while out at breakfast, when the menu offered it as a side and I was feeling extra peckish. Maybe it had to do with my pantry—full of Costco purchases my mother got for me. At the beginning of March, when the pandemonium over toilet paper was on full display, my mother called me slightly panicked herself. Should she stock up? What do I need? She'll get me whatever from Costco. She'll send my brother (who lives at home) downtown with her minivan full of supplies. Could she get me groceries? Do I have enough? Eunice, what do you need? So, to ease her worries, I gave her a list. And, she got everything and then some. I'm not complaining. This is one of the hallmarks of how she and so many Asians parents express their love. Not through words, but through actions and providing for their family.
The baked beans were a success. The bag of Thompson's White Pea Beans had a recipe printed on it (à la Nestlé Toll House) but I also "did research" and found a number of recipes. There was a common thread in ingredients used, and some methods that I didn't have access to (no pressure cooker here!), but I adapted everything to my taste. Isn't that the joy of home cooking? Figuring out what works for you and with what you have? But, don't get me wrong here: I will not purport myself to be an expert—there's a fine line between appreciation and appropriation of food cultures. Baked beans are widely accepted as a British, Canadian, or American dish, yet in my search I found they're originally Native American—colonialism, truly at the root of so much appropriation.
If you've been following along on Instagram, it's been a week of food: multiple pizzas, successfully making pasta for the first time, saving tomatoes by confit, sourdough for toasts. Sometimes I forget how much joy I take from cooking. I only realize the effect it has on me, days later when I haven't done the dishes, haven't made anything of substance (ordering in instead), and just looking at my messy kitchen … I feel a bit out of control. Then, I feel restored once I cook something again. While this pandemic has highlighted how much I cherish the connection we can have over food, and sharing meals, it has also been a reminder of how I need to take care of myself.
When I called my mom on Monday, she saw that I was making beans, and immediately had a new loving suggestion for me: Eunice, don't forget black beans—they'll help stop the grey hairs that are coming in.
---
I feel like we've all become accustomed to passively watching shows with our brains occupied by our phones and social media. I know I'm always glancing away to get stuck in an Instagram blackhole. I realized this so acutely this summer, while stuck inside and streaming something on Netflix. I wasn't paying attention to whatever show I was watching—I can't remember which, but I know I wanted to watch it! This is why I've picked up knitting again.
There's something so gratifying about knitting. Yes, it is a lot of work and takes time and effort, but isn't that reason enough to be proud and satisfied in the end result? I will have made something for me. It will fit how I want. It may have a few imperfections, but nothing is perfect and it is still so worth it.
I started and finished Selling Sunset while knitting, and honestly I did not think I would actually watch the show. It ended up being the first pick because I wanted something easy to watch, and something where I could look away easily if I had to fix some stitches. Honestly, I mostly felt sad for Christine that her toxic actions were greatly influenced by her experience being bullied growing up; Davina—no thank you; Chrishell—that sucks.
Not sure what I was expecting when I tuned into Get Organized with The Home Edit, but maybe I was hoping for something more life transformative? Paired with being in major awe of celebrities' homes? I did not fully get that. I like Clea and Joanna (I follow them on Instagram) but translated to TV, and the awkwardness comes through. I don't blame 'em—they're organizers! I will say that The Home Edit method is effective, and I was inspired to get started on my ridiculously messy (even for me) home.
I'm only mentioning this one because everyone is already talking about it: The Social Dilemma. I have not yet watched it, and I don't know if I will.
I'm almost done my cardigan, and have one sleeve left to finish. Just in time for cozier weather.
---
I haven't finished reading any books yet, but I've started a few. Yes, I read multiple at a time. I do this when the books are different enough that I can easily switch between stories and characters. It also highlights to me which book I'm more excited to read and finish.
---
Books
The Seven Husbands of Evelyn Hugo by Taylor Jenkins-Reid
Luster by Raven Leilani
The Immortal Life of Henrietta Lacks by Rebecca Skloot
Watching
Selling Sunset – Netflix
Get Organized with The Home Edit – Netflix
The Social Dilemma – Netflix
Recipes
Old-Fashioned Baked Beans – Thompson's
Baked Beans – The Bon Appetit Test Kitchen
Sourdough Pizza Dough – Bryan Ford, Artisan Bryan
Buttered Corn & Basil Cappelletti – Meryl Feinstein, Pasta Social Club
Red and Yellow Cherry Tomato Confit – Melissa Clark
Save the Tomatoes – Alison Roman (coincidentally a well-timed newsletter)
Articles
Japanese Curry: A Curious Journey of Colonization and Globalization – Diaspora Co.
What 'The Social Dilemma' misunderstands about social networks – The Verge
Why We Struggle to Say 'I Love You' – NYT Opinion